Source: Why-youmad
From what I've gathered, people are often inspired to dress better by those around them. You might have experienced this yourself. Maybe it's the best friend who, due to his new job, is starting to wear more dress shirts and wingtip shoes, leaving you in the dust with your ratty T-shirt and ripped jeans. Or perhaps it's your sister's new boyfriend, whose modern hipster look makes you feel like you're constantly missing out on some sort of hip trend.
Whatever the case, I think that observing stylish folks around you and finding the things that you like (and don't like) about their style, might be an easy way to take cues on building your own personal style.  You'll notice things that you are fond of, and things you wouldn't want to be caught dead in.
Recently, I've been inspired by folks wearing casual summer sport coats and blazers. You know, the ones made of seersucker, linen, madras and the like.
To me, a sport coat is one of the most attractive pieces of clothing a man can own. However, the problem with sport coats is that they can come off pretty formal, and will get neglected from regular wear as a result. Well, the good news is that these casual summer sport coats that I'm seeing around are generally unlined, unstructured, and made with breathable fabrics, all of which are characteristics of casual wear. Thus, I'm all aboard, and am going to start wearing casual summer sport coats on a more regular basis.
A few photos to inspire you all as well:
 Source: Dressmeblog
Source: Mensthreads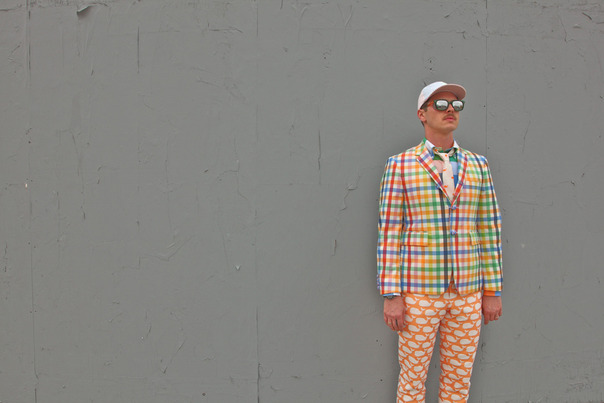 Source: Union LA
Okay, that last photo is outlandish, to say the least. But either way, it shows us how these types of sport coats don't need to be taken so seriously, and can be worn in pretty casual situations (dare I say, even with a baseball cap?). Get at it fellas, I know I definitely will.