Barbour, as many of you may know, is one of my favorite clothing brands. I'm particularly a fan of their high quality waxed cotton jackets, which I would say are really their specialty. Plus, I trust their quality because they've been doing this stuff since the beginning of ages.
In case you're not familiar with the brand, they're most well-known for three jackets in particular, which have not changed in style for quite some time- the Bedale, Beaufort (which is basically a longer Bedale), and Barbour International. All three are tried & true, and if you've been searching for a field jacket, I would highly suggest one of those options.
So recently, Barbour has been taking an effort to modernize their brand a bit, and as a result, partnering up with other companies to do just that. They're releasing collaboration pieces every now and again, and Jack Spade happens to be one of the companies they're doing it with. Recently, they released the Jack Spade Barbour Hopper Jacket, a cool twist on their Bedale-styled jackets. This is their 2nd time doing this, and I personally think this year's model is the coolest I've seen. See below: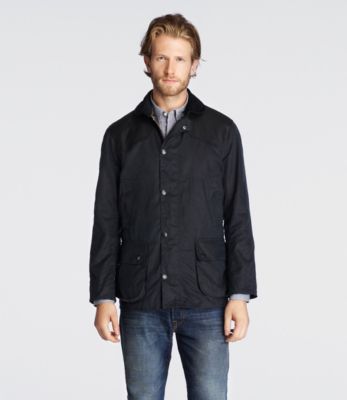 I recently got my hands on one of these jackets, and wanted to share my thoughts about them with you today. Here it goes:
So as far as the quality is concerned, these jackets are pretty similar to other Barbour offerings. The waxed cotton, the detailing, the heft are all reminiscent of their Bedale in my opinion. There are a couple major differences though.
1. It's navy, not green like most their jackets.
2. It's actually slim cut, unlike their normal Bedale.
3. It comes with an inner vest (detachable) that has a really cool orange coloring.
4. The collar is different, it's a club collar on this one.
Here are a couple makeshift photos of me wearing the jacket
Now, how do I feel about the jacket?
Personally, I think it's great. It looks sleeker and more modern than all their traditional models. The silhouette is far more flattering, the colors are refreshing, and everything good about their normal jackets still remains.
Now here's my one problem- the jacket is really expensive. It's $799 at retail price, though you can get 15% off for signing up through their mailing list. This still puts the jacket at double the price of their normal models. Yes it has a vest as well, but I don't think the vest necessarily covers the margin. You're paying for brand and exclusivity if anything.
The good news is that this jacket will probably last you a decade, easy. Barbour does a great job of reproofing their jackets if you request it, so if the wax goes away completely, you can still restore it back to tip top shape.
If you have the money, and have been looking for a Barbour jacket for some time now, check this particular model out. It's pretty awesome, though a bit pricey. You can find it at Jack Spade's website.