Christmas has come and gone, and massive end-of-the-season sales have begun. Time for another wish list from yours truly.
Oddly, this shirt has been on my mind for the last three weeks. Really, it's nothing special since all it is, is basically a long sleeve striped T shirt (albeit a high quality one) with a slightly unique neck opening.  To add, I'm not a huge fan of horizontal lines on shirts since I'm a bit shorter, and such patterns don't do any favors for my stature. Still, this shirt keeps popping up in my head. I suppose it might be the shirt's history? Or incredible layering ability?
You can grab one from J.Crew or Unionmade (who is actually having a semi-annual sale right now).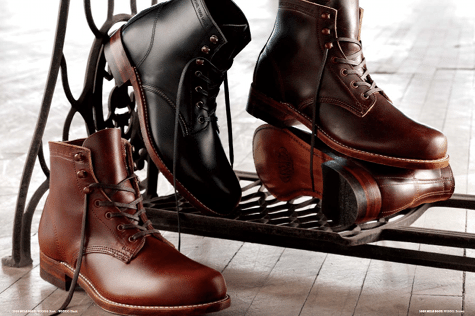 Why do I keep posting boots in my wish lists?
One boot that has particularly caught my attention is the 1000 mile boot by Wolverine. These bad boys are quite acclaimed in the menswear world, and for good reason. I had a chance to try them out recently, and not only do they look great, but you can immediately tell they're built like an ox. Proper Goodyear welting on a leather sole, high quality upper leather & stitching, made in the USA... what's not to like? Plus, I think they are incredibly versatile. They're equally appropriate on a mountain hike as they are at an office event.
I would go out and get them immediately, but I think I'm past my boot quota for 2012-2013. Oh, and if these boots are too expensive for you, I found a great deal on an amazing, less expensive alternative made by Chippewa. You can find them on Amazon for only $86 with coupon "workboot." Yea, seriously.
I recently saw a Gitman Vintage navy shirt with a subtle pin dot pattern on it at a clothing boutique here in SF. I immediately wanted one in my closet, so I started searching the web to find one in my size. Unfortunately, I failed to find one at a decent price, but the shirt got me to thinking. Hey, wouldn't this pattern look great on a tie or pocket square?
Since having that thought, I've been looking all over the web for a decent tie and pocket square combo in the navy + pin dot pattern. Well it turns out that one of my favorite tie makers, Drake's of London, carries a nice one as shown above. They're also having an end of the year sale right now, so the prices are cut about 25%.
If the price is still too high for you, good news is that you can get both a tie and pocket square in this pattern at thetiebar for a lot cheaper than the Drake's tie above.
Grant it, I don't think it needs to be specifically from J.Crew, but I've been looking for a nice dark indigo denim shirt for a while now. I think a denim shirt is a piece that can effortlessly dress a formal outfit down, and still look appropriate in most situations. Definitely a refreshing change from your normal white, blue, or pink dress shirt that you may wear on a daily basis.
The only reservation I have with getting a denim shirt is its versatility. I generally wear jeans everyday and the color of this shirt in particular would be too similar to the color of my jeans, making the outfit look less than ideal. Either way, I'm on the fence, but I must say... J.Crew makes this shirt look damn good.
--
So there you go, my January wish list. You know, sometimes I wonder if it ever ends...
Oh well, TIME TO SPEND MOAR MONEY!