A couple weeks ago, I started a series called "Thoughts From a Simpler Woman," where I brought to you a woman's perspective on menswear. In case you missed it, here's the first part of the series, which went over some essential pieces that belong in every man's wardrobe. In this post, I'm continuing the series, with the help of my friend Stephanie, who is both an avid traveler and fashion enthusiast. She's a Hipmunk marketer by day, and trendy fashionista by night... someone who you might want to listen to.
Today, she'll be discussing a topic very near and dear to both of her passions, giving you advice on clothing you should wear while traveling. Now, without further ado:
---
Travel in Style
I've done my fair share of traveling, and if there's one thing I know to be true it's this: you never know who you'll meet while traveling. Whether for business or leisure, a one hour or twenty-one hour flight, you should always be dressed to impressed. Your peers may be sporting sweatpants for comfort, but let's be honest -  a future love interest, colleague, or celebrity, will not make small talk with someone in their sweatpants. So how exactly does one dress comfortably for a cross-country flight, yet still look polished enough to get bumped to first class? Here's the perfect outfit to wear while traveling.
1. Casual button-up.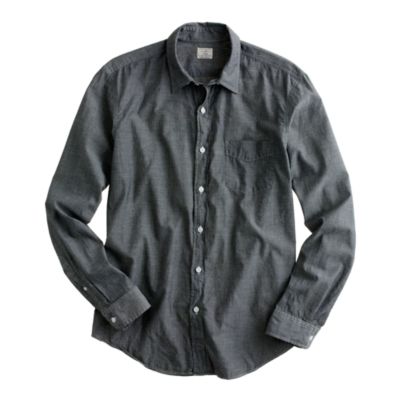 Choose one that both fits well and is comfortable to wear while seated for long periods of time. T-shirts can make you look sloppy and disheveled. Airlines certainly don't upgrade those who wear t-shirts to first class. If you want to keep pretty casual, I like these chambray ones from J.Crew.
2. Cardigan.
Any seasoned traveler knows to layer. A classic cardigan or sweater not only adds another dimension to your ensemble, but will help co mbat the airplane's circulated cold air. It's truly a utilitarian piece. Here's a pretty affordable one from Topman.
3. Simple raincoat.
A simpler man should always be prepared without exerting too much effort. Traveling with a light raincoat assures that you'll be ready to face whatever the weather may be at your final destination. Choose a coat that you can easily take off and fold during your flight. Try a parka like this by Land's End.
4. Slip on loafers.
Loafers are refined, yet casual and versatile. They are a great option for flights because you can easily slip them off, and quickly get through the security line. If loafers aren't your style, try a slip on boot - just avoid anything with laces. I know these are expensive, but I'm a fan of these by To Boot New York.
5. Tab closure pants.
Wear nice pants. Don't wear basketball shorts, sweatpants, or even lululemon workout pants. Men, wear actual pants when you travel. There are plenty of brands that make pants you'd love to wear while sitting for hours. If you don't want to hassle with a belt at the security line, opt for tab closure pants. And please, wear a slim fit.
6. Carry on.
Last but not least, have a decent carry on bag. Nothing crazy - both Louis Vuitton and your old high school gym bag scream unapproachable. A great carry on bag is like the cherry on top of your stellar outfit - don't overlook it. For lighter travel, try a duffel or weekender, for longer trips, a simple rolling bag is best.
There you have it. All you need to ensure that you'll never look frumpy at your terminal. If anything, I'll certainly appreciate it.
Stephanie is an avid traveler, visiting a total 13 countries and counting. She's zip-lined in Costa Rica, food tasted in New Orleans, and backpacked across Europe. She also made sure to stop by Milan, London, Paris, and New York, just to experience the highlights of international street fashion.
Picture Sources: J.Crew, Nordstrom, Everlane, Land's End, Bloomingdales