So yes, we want to dress better as individuals. We want to make a good impression in front of others, and we want to look and feel great.
All awesome. But can we go too far?
My answer to that question is yes. I've seen it, you've seen it, we've all seen it. The truth is, fashion can easily go from helping a man's image, to making that same man outright laughable. I think a simpler man would not want to cross that line.
First off, I never want clothing to take away from the product that is you. How does the saying go? Wear your clothes, don't let the clothes wear you? Well, I am a huge proponent of that, and think that sometimes we need to take a step back and realize that clothing is simply static material. Static material that is there to help the dynamic you look and feel more confident.
When starting to dress better, I think we need to sometimes be careful and consider a couple things. First is occasion. What is the occasion that you are dressing up for? Is it formal, casual, somewhere in between? Whatever it is, you want to make sure you fit somewhat appropriately to the picture, or else unwanted attention may come to you. You know that guy who wears a suit to the all-casual work place? Ever heard the people around you whispering, asking "why is this tool wearing a suit to work for no reason?"
Now if you are that guy, and you feel best in a suit regardless of the occasion, all power to you! However, if it's simply to show that you have fashion sense, you want to make sure you're wearing suits at the appropriate times. In a casual setting, you can still look damn good with a nicely put together casual outfit, and you won't look out of place. Likewise, you can still set yourself apart during formal events as long as you have a nicely fitting suit, and the right accessories to make you stand out.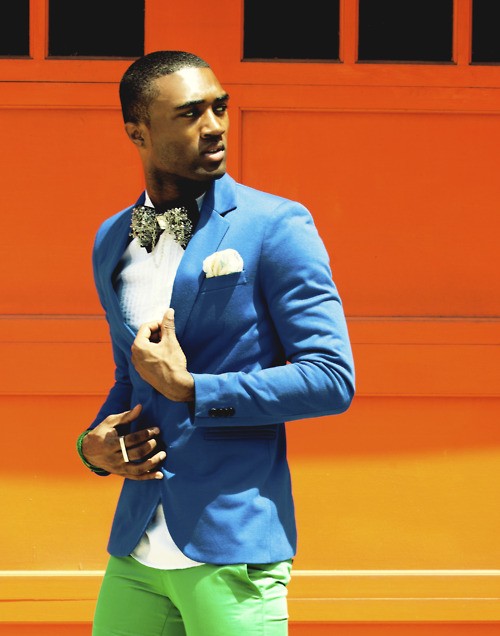 As a general rule, I would say that if you pull something out of your closet, put it on, and wonder "can I pull this off?" for even a split second, then you should evaluate why you are wearing those clothes in the first place. The reason I say this is that you might get self conscious while you're out and about for the rest of the day, and remember, we want to promote self confidence, not self consciousness. If you're walking around constantly wondering if you can pull off your newly bought wine-colored slim pants, then you're probably not fooling anyone. Go back to those trusted blue jeans of yours, there are plenty of ways to improve dress even with just basic blue jeans!
Lastly, remember that fashion trends are just that... trends. I'll say it again, stick with the classics and staples, as they will never do you wrong. Wearing camo, colorful bowties, hot pink skinny pants, and the like are fine at times (minus the hot pink skinny pants), but I personally think that you'll look better with a pair of dark jeans and a thin v neck sweater. And you probably won't think twice about what you're wearing, letting your true self come out more.
Dress in confidence, but remember why you're doing it. Is it to prove to others that you can follow fashion trends? Or is it to look awesome and feel even awesomer? Keep it simple gentlemen. You can call me a broken record, but at least I'm replaying the key part of the song.