The autumn leaves are starting to fall. Get your old book, thick cardigan and smokey scotch out fellas. Oh I forgot, make sure to open your closet and dig to the back. Today we're talking boots.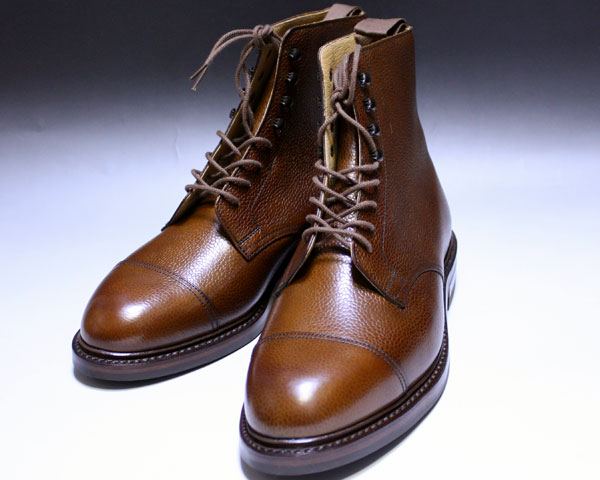 To my left are some of my favorite boots around. They're a pair of Crockett & Jones Coniston derby boots in a walnut-like color. One day... One day...
But instead of just drooling over these boots, let me go into why I think every man should own a pair of stylish boots for the fall and winter.
Generally, people change their clothing between the summer months and the winter months. They go from wearing colorful shirts, shorts, and t-shirts to jackets, overcoats, and sweaters. Obviously this is natural, as winter is coming (Game of Thrones anyone?) and you need to be prepared to take the cold. However, I rarely see people change their footwear. Yes, maybe one will wear sandals more often in the summer than the winter, but generally you keep wearing the same shoes throughout the four seasons, whether they be sneakers, casual leather shoes, or dress shoes. Enter the boot. Finally a shoe that can stand the snow-filled ground, give you the ankle support you need to hike up that mountain, and also stop rain from wetting your socks so easily.
For me, nothing beats having a nice pair of boots for casual wear. I'd recommend sticking to browns (both light and dark shades) and blacks, as you want to wear them just as much next winter as you do this winter. You also want to make sure they are durable and of high quality. This is a piece of your wardrobe that I think you should invest a bit in, as a good pair can last you as long as fifteen years if you take good care of them.  I think you should expect to pay a little extra to buy quality. By extra, I mean nothing under $150 if possible.
If I were to have only one pair of boots, they might be a pair of lace up cap toes (toe is capped with stitching) like the C&Js or a pair of chukka boots like these ones by Church's on the right:
Both of the types of boots I mentioned  are extremely versatile and can be worn with a pair of wool trousers, chinos, dark jeans, whatever. These days, many guys are also cuffing up their casual pants to show more of their boots, and since that's IN, I suggest you do it while you can!
As for recommendations, here are a couple that I might recommend, in ascending price.
~$100 Clarks Desert Boots
~$200 Chippewa Lace Boots
~$300 Redwing Beckman Boots
~$400 Allen Edmonds Dalton Boots
~$500 Crockett & Jones Coniston
So go out there and wear some boots gentlemen! I keep hearing from women that they always look at mens' shoes, and generally my most complimented shoes end up being my boots... coincidence? I think not.